Altech Batteries Limited (Altech/the Company) is aiming to become one of the world's leading suppliers of 99.99% (4N) high purity alumina (AI2O3) through the construction and operation of a proposed 4,500tpa high purity alumina (HPA) processing plant at Johor, Malaysia. Feedstock for the plant will be sourced from the Company's 100%-owned kaolin deposit at Meckering, Western Australia.
Initial construction works for the Malaysian HPA plant commenced in August 2018 with clearance of the Company's plant site. Altech released a Final Investment Decision Study (FIDS) for the HPA project, detailing a 4.5ktpa HPA operation over a 30 year life with a capex of US$298m and an average operating cost of US$9.9/kg. Altech has secured a US$190m senior loan with German owned state bank KfW IPEX-Bank, and continues to negotiate US$100m of Green Corporate Bonds, as well as US$100m equity stake in this project, in order to finalise construction of the Malaysian High Purity Alumina Plant.
HPA project development
FIDS completed with robust project economics:

Pre-tax NPV7.5 US$ 505 million
Internal Rate of Return (IRR) 22%
Payback (full rate) 3.9 years
EBITDA US$ 76 million p.a.
Capital cost US$ 298 million
Total debt of US$ 190 million
Production costs – US$ 9.90/kg
Avg. sale price – US$26.9/kg
Gross Margin – 63%

Market for HPA growing at a CAGR of 15-20% per annum out to 2025 primarily driven by LED/synthetic sapphire demand
Exclusive 10-year offtake agreement in place with Mitsubishi
US$340m project finance agreed or under negotiation with KfW IPEX-Bank and other international financiers

US$190m senior loan agreed, of which US$170m is low interest, long tenure Export Credit Agency (ECA) cover
Term Sheet in place for US$100m Green Corporate Bonds
Term Sheet in place of US$100m equity stake in this project

Fixed price EPC with SMS group, offering a significantly de-risked construction pathway guaranteeing throughput volumes/quality and taking on commissioning responsibility
Fully permitted project with commencement of HPA plant construction stage 1 works from July 2018
High purity alumina
HPA is a high-value (USD28,000 – USD40,000 per tonne), high margin and highly demanded product as it is the critical ingredient required for the production of synthetic sapphire and is increasingly consumed in the manufacture of large format lithium-ion batteries.
Synthetic sapphire is used in the manufacture of high-tech applications such as:
substrates for LED lights
semiconductor wafers used in the electronics industry
scratch-resistant sapphire glass used for wristwatch faces, optical windows and smartphone components
There is no substitute for HPA in the manufacture of synthetic sapphire.
Lithium-ion battery manufacturers require HPA as a coating for the plastic anode/cathode separator to reduce separator shrinkage and combustibility.
For 2016 the global HPA market was estimated at 25,315tpa and annual HPA demand is expected to increase to 86,821tpa by 2024.
Demand is currently rising at a forecast compound annual growth rate (CAGR) of 16.7% (2016-2024).
Related Documents:
Australian Aluminised Clay Project
Altech holds a 100% owned kaolin deposit at Meckering, Western Australia. The kaolin (aluminised clay), is intended to provide the feedstock for the Company's Johor processing plant for processing in to high-purity alumina. The deposit has sufficient capacity to provide the feedstock for the life of the Johor plant.
Altech has received the Certificate of Grant for an Innovation Patent from the Australian Patent Office (IP Australia), for the Company's process of producing high purity alumina (HPA) from kaolin.
The granted patent covers the production of alumina from all types of aluminous clay including kaolin, using hydrochloric acid and includes the following steps:
treating kaolin or aluminous material to reduce particle size and increase the alumina content;
calcining the kaolin or aluminous material;
leaching the aluminous material with hydrochloric acid;
solid liquid separation to provide a pregnant liquor;
crystallising aluminium chloride hexahydrate by adding hydrogen chloride gas;
precipitating and separation of aluminium chloride hexahydrate;
dissolving the aluminium chloride hexahydrate in water and repeating the crystallisation process; and
roasting and calcining aluminium chloride hexahydrate to provide alumina.
The grant of the patent acknowledges that Altech's process for producing HPA from aluminous material such as kaolin is unique. Other potential new entrants into the HPA industry that have publicised the proposed use of a process similar to Altech's for the production of HPA from kaolin, will need to take extreme care not to breach the Company's patent.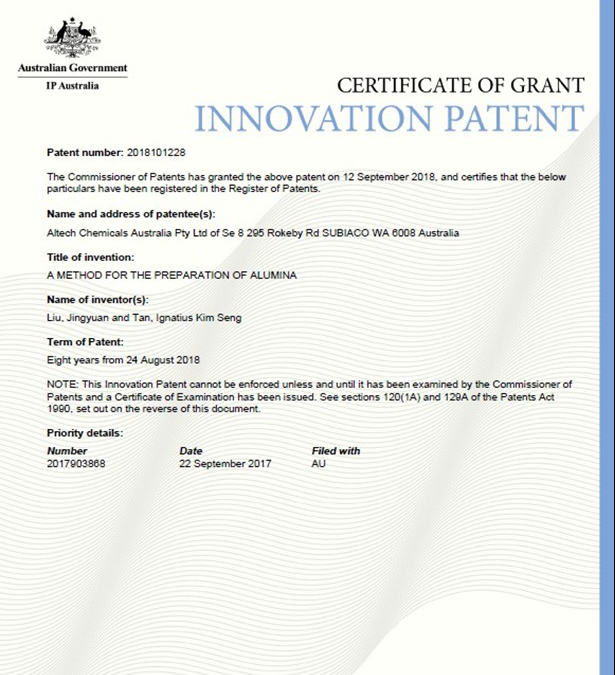 Altech's Meckering project has also received works approval for a screening and loading facility granted by the Western Australian (WA) Department of Water and Environmental Regulation (DWER).
The works approval permits the construction of kaolin screening and loading facility infrastructure, to be located adjacent to the proposed Run of Mine (ROM) stockpile, at the Company's Meckering kaolin deposit. Positioned within Altech's granted mining lease M70/1334, the Meckering kaolin deposit is located at Leeming Road, Warding East, approximately 140km east of Perth and 8km south-east of the town of Meckering, Western Australia.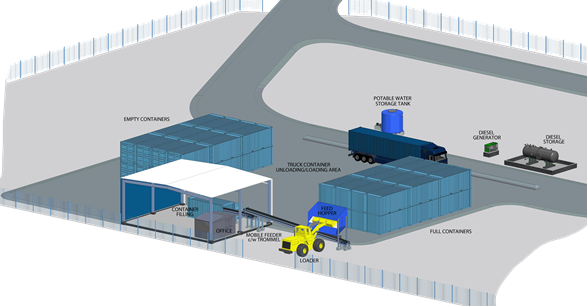 Whilst Altech's flagship Meckering kaolin deposit will provide feedstock for its Johor HPA plant, the Company also holds 100% of the Kerrigan deposit, which hosts a high-quality, near surface and large volume kaolin deposit.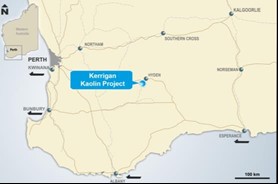 Location of Kerrigan Kaolin Project
At Kerrigan, kaolin forms part of an unusually thick and well-developed weathering profile and is found under overburden of laterite and mottled clays, with overburden thickness ranging from 1 to 12m. Since 1995 the only significant exploration conducted at Kerrigan was the bulk sample and evaluation of ~6 tonnes of kaolin (from two test pits) and the processing of samples from the pits. Also, in 2022, the Company announced an increased JORC inferred kaolin mineral resource of 125Mt at an ISO brightness of 85.2% for Kerrigan (refer ASX Announcement dated 6 April 2022 for complete details).
The Kerrigan kaolin deposit is located 20kms south of the central Western Australian wheatbelt town of Hyden, and sits within exploration license E70/4718-1, which covers an area of approximately 480km2. The license was granted in 2015 and is 100% owned by Altech.
Altech has also discovered halloysite at its Kerrigan kaolin deposit. Halloysite is a tubular form of the kaolin group of minerals where the mineral naturally occurs as nanotubes; microscopic tubes, the diameter of which is measured in nanometres (one millionth of a millimetre). The properties of halloysite nanotubes make halloysite products ideally suited to a diverse range of specialist applications, attracting a significant premium above the average kaolin price.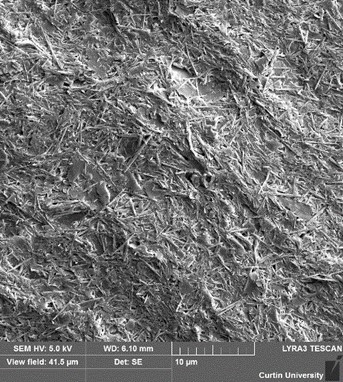 SEM Photo of Halloysite sample 10um scale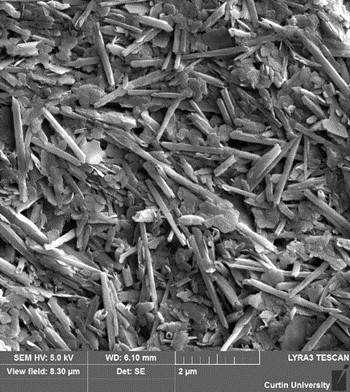 SEM photo of Halloysite at 2um scale